This Is the Water: A Novel (Paperback)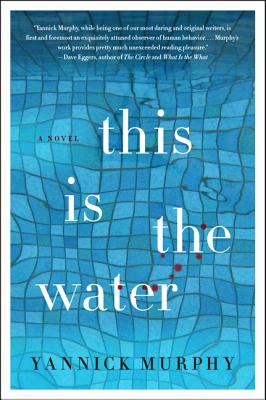 $14.99
Email or call for price/availability
Staff Reviews
---
This is the Water has everything from romance, to murder, to swimming. Trying to ignore her lackluster marriage and her brother's suicide, Annie focuses on her daughters and their swim careers. The swim team is shaken to the core when a serial killer claims the life of a teammate. Due to this incident, Annie spends more time with Paul, a married swim team dad and is stunned to learn that he knows a secret about the killer that he won't share with the police. Author Yannick Murphy makes a splash with this novel.
- Clare
— From
Clare's Recs
August 2014 Indie Next List
---
"The first thing you notice about Murphy's new novel is the hypnotic cadence of her prose. It flows like the water, like the young swimmers and their families around whom the story turns. This book is at once a suspenseful murder mystery as well as a meditation on what it means to love fiercely as a parent and what it is like to be female in a body starting to show its age, longing for passion and desire that seems long gone. Murphy has the knack of finding the essence of the thousands of tiny moments and inner thoughts that fill our days, and writes about them with a clarity that makes the reader say 'Yes, yes, yes!'"
— Susan Petrone, Loganberry Books, Shaker Hts, OH
Description
---
From Yannick Murphy, award-winning author of The Call, comes a fast-paced story of murder, adultery, parenthood, and romance, involving a girls' swim team, their morally flawed parents, and a killer who swims in their midst.
In a quiet New England community members of swim team and their dedicated parents are preparing for a home meet. The most that Annie, a swim-mom of two girls, has to worry about is whether or not she fed her daughters enough carbs the night before; why her husband, Thomas, hasn't kissed her in ages; and why she can't get over the loss of her brother who shot himself a few years ago.
But Annie's world is about to change. From the bleachers, looking down at the swimmers, a dark haired man watches a girl. No one notices him. Annie is busy getting to know Paul, who flirts with Annie despite the fact that he's married to her friend Chris, and despite Annie's greying hair and crow's feet. Chris is busy trying to discover whether or not Paul is really having an affair, and the swimmers are trying to shave milliseconds off their race times by squeezing themselves into skin-tight bathing suits and visualizing themselves winning their races.
When a girl on the team is murdered at a nearby highway rest stop—the same rest stop where Paul made a gruesome discovery years ago—the parents suddenly find themselves adrift. Paul turns to Annie for comfort. Annie finds herself falling in love. Chris becomes obsessed with unmasking the killer.
With a serial killer now too close for comfort, Annie and her fellow swim-parents must make choices about where their loyalties lie. As a series of startling events unfold, Annie discovers what it means to follow your intuition, even if love, as well as lives, could be lost.
About the Author
---
Yannick Murphy is the author of The Call; Signed, Mata Hari; Here They Come; and The Sea of Trees, as well as two story collections and several children's books. She is the recipient of a Whiting Writers' Award, a National Endowment for the Arts Award, a Chesterfield Screenwriting Award, a Pushcart Prize, and the Laurence L. & Thomas Winship/PEN New England Award. Her work has appeared in The Best American Nonrequired Reading and The O. Henry Prize Stories. She lives in Vermont with her husband and children.
Praise For…
---
"An inventive thriller set in suburbia -- and in the troubled minds of her characters. . . . Murphy proves skillful at generating a proper climate of dread . . . But her real accomplishment is her study of the anxieties reflected in the exacting rules of the club." — New York Times Book Review
"A domestic tale and unlikely crime thriller, adds a striking new wrinkle to the author's consistently surprising body of work. . . . Ms. Murphy excels at such intimate observations of everyday family life. . . . A pulse-raising thriller." — Wall Street Journal
"Compelling. . . . Style and substance and swimming mesh perfectly into a page-turner that sweeps you along with the power of a winning breaststroke. . . . This is the Water is the perfect, refreshing drip in the pool for the dog days of summer." — Boston Globe
"Murphy's writing is disarming in that it captures the way people actually think. . . . An uncommon story. This Is The Water is quietly unlike anything else." — A.V. Club, "A"
"Mesmerizing. . . . The resulting intimacy you develop with each character takes this book beyond compelling into seriously addictive: You feel as they feel, be it fear, loss, longing or that most gripping of all feelings, love. Do not miss it." — Oprah.com, 7 Best Binge-Reads of Summer
"Obscenely suspenseful. . . . In Murphy's hands, the structure becomes almost hypnotic--and when the story hits full speed in the final quarter, the suspense becomes almost excruciating." — Publishers Weekly (starred review)
"Murphy seasons the rising tension with humor. . . . A different sort of murder yarn that boasts twists in both the style and the plot." — Kirkus Reviews
"This Is the Water isn't just a good airplane read. . . . Murphy's hauntingly lovely writing will hold plenty of appeal for a broader audience." — Mother Jones, The Best Books of 2014
"[A] propulsive, psychologically lush, witty, and unpredictable novel. . . . Murphy's evocation of feverish competition, stressed marriages, and the shocking banality of a serial killer's inner life coalesce in a novel of acute observation, penetrating imagination, and rare agility that is capped by a resounding denouement." — Booklist (starred review)
"A gifted storyteller with an unusual, hypnotic voice. . . . The nuances of small-town life are superbly captured in prose reminiscent of Philip Roth, but it is menace that drives the story forward. Truly original, it casts a spell that lingers in your mind." — Daily Mail (London)
"This Is the Water is a chilling combination of crime and domestic drama, and its effects linger." — Shelf Awareness
"Almost unbearably suspenseful, this novel propels the reader mercilessly toward a stunning conclusion." — Cleveland Plain Dealer
"A suspenseful story about a serial killer stalking a high school girls swim team in a quiet New England town." — The Daily News
"By skipping among the minds of many of her characters, and emphasizing the discrepancy between what they know at any given point in time and what the reader knows, Murphy amps up the suspense." — Columbus Dispatch
"This is the Water offers a rare combination of literary merit and genuine suspense. It is lyrical and fluid, like the swimming pool that plays such a key role in its prose." — Bookreporter.com