Rooms: A Novel (Hardcover)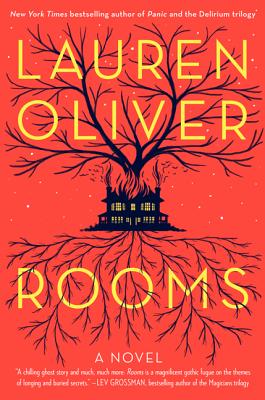 $25.99
Email or call for price/availability
Staff Reviews
---
The old adage "if walls could talk" has never had more resonance. When her father Richard dies, Minna, her brother Trenton, their mother Caroline, and Minna's daughter Amy, go back to Richard's house to clean it out. They soon uncover more secrets than they had bargained for among the dust bunnies. Lauren Oliver's page-turner will have you hooked until the very end.
- Clare
— From
Clare's Recs
Description
---
The New York Times bestselling author of Before I Fall and the Delirium trilogy makes her brilliant adult debut with this mesmerizing story in the tradition of The Lovely Bones, Her Fearful Symmetry, and The Ocean at the End of the Lane—a tale of family, ghosts, secrets, and mystery, in which the lives of the living and the dead intersect in shocking, surprising, and moving ways.
Wealthy Richard Walker has just died, leaving behind his country house full of rooms packed with the detritus of a lifetime. His estranged family—bitter ex-wife Caroline, troubled teenage son Trenton, and unforgiving daughter Minna—have arrived for their inheritance.
But the Walkers are not alone. Prim Alice and the cynical Sandra, long dead former residents bound to the house, linger within its claustrophobic walls. Jostling for space, memory, and supremacy, they observe the family, trading barbs and reminiscences about their past lives. Though their voices cannot be heard, Alice and Sandra speak through the house itself—in the hiss of the radiator, a creak in the stairs, the dimming of a light bulb.
The living and dead are each haunted by painful truths that will soon surface with explosive force. When a new ghost appears, and Trenton begins to communicate with her, the spirit and human worlds collide—with cataclysmic results.
Elegantly constructed and brilliantly paced, Rooms is an enticing and imaginative ghost story and a searing family drama that is as haunting as it is resonant.
About the Author
---
Lauren Oliver is the cofounder of media and content development company Glasstown Entertainment, where she serves as the President of Production.
She is also the New York Times bestselling author of the YA novels Replica, Vanishing Girls, Panic, and the Delirium trilogy: Delirium, Pandemonium, and Requiem, which have been translated into more than thirty languages. The film rights to both Replica and Lauren's bestselling first novel, Before I Fall, were acquired by Awesomeness Films. Before I Fall was adapted into a major motion picture starring Zoey Deutch. It debuted at the Sundance Film Festival in 2017, garnering a wide release from Open Road Films that year.
Oliver is a 2012 E. B. White Read-Aloud Award nominee for her middle-grade novel Liesl & Po, as well as author of the middle-grade fantasy novel The Spindlers and The Curiosity House series, co-written with H.C. Chester. She has written one novel for adults, Rooms.
Oliver co-founded Glasstown Entertainment with poet and author Lexa Hillyer. Since 2010, the company has developed and sold more than fifty-five novels for adults, young adults, and middle-grade readers. Some of its recent titles include the New York Times bestseller Everless, by Sara Holland; the critically acclaimed Bonfire, authored by the actress Krysten Ritter; and The Hunger by Alma Katsu, which received multiple starred reviews and was praised by Stephen King as "disturbing, hard to put down" and "not recommended…after dark."
Oliver is a narrative consultant for Illumination Entertainment and is writing features and TV shows for a number of production companies and studios.
Oliver received an academic scholarship to the University of Chicago, where she was elected Phi Beta Kappa. She received a Master of Fine Arts in Creative Writing from New York University.
www.laurenoliverbooks.com.
Praise For…
---
"In Oliver's moody and mysterious novel, a pair of ghosts inhabits the house of the recently deceased Richard Walker and serves as an invisible chorus to his family's bleak memories and motivations." — O magazine
"A sensational novel that easily glides between the normal and the paranormal. At times humorous, at times heartbreaking, ROOMS is always emotionally resonant and, despite the presence of ghosts, very, very real." — —Ivy Pochoda author of Visitation Street
"A chilling ghost story, and much, much more: Rooms is a magnificent gothic fugue on the themes of longing and buried secrets."-Lev Grossman, bestselling author of The Magicians Trilogy — —Lev Grossman, bestselling author of The Magicians
"A powerful haunted house story … Excellently paced… Ultimately, Rooms is an outstanding novel, with a brilliant array of characters...compelling and difficult to put away...it has stuck with me in ways that few books do. Oliver's particular blend of fantasy is at times funny, other times heartbreaking." — io9
"…in this spectral soap opera there's fun to be had as the plot's many traps are set and then snapped shut." — New York Times
"A spirited new novel." — W Magazine
"Best-selling young adult novelist Lauren Oliver, author of Before I Fall and the Delirium trilogy, enters new territory with Rooms, her first novel for adults--though spooky supernatural elements remain." — Wall Street Journal
"[A] fantastic ghost story…. Highly recommend." — Washingtonian, Top 10 Books for September 2014
"ROOMS is, overall, a very successful work, and an impressive demonstration of Oliver's craft." — NPR
"Lauren Oliver leaves the young-adult realm with her latest novel, in which the living and dead intersect, and family secrets are unearthed when you least expect it." — San Francisco Chronicle
"[Oliver's] first novel for adults, Rooms, is a ghost story, but is completely unlike any we've read before… an elegant blend of real and supernatural worlds." — BookPage
"Oliver skillfully weaves her tales together clearly and cleanly… The real strength of this novel is Oliver's knack for rendering charmingly flawed characters with real-life problems and complicated relationships… Oliver's prose is crisp and clean; it gives the book much of its energy." — Washington Independent Review of Books
"Pleasantly spooky." — New York Times Book Review
"A family faces its demons-such as sex addiction and alcoholism-when they gather after Dad's death. (Adding stress: His house has ghosts!) A complex first adult novel from the Delirium writer." — Us Weekly
"[Oliver] turns triumphantly to adult fiction with her latest, Rooms… The last 50 pages of Rooms are as devastatingly emotional as any book I've recently encountered… For a thriller, that's as strong a recommendation as I can make." — Dallas Morning News
"Lauren Oliver, best known for her Delirium series, makes her adult debut with the stand-out Rooms, a creepy ghost story and domestic family drama rolled into one." — Publishers Weekly
"[A] sweet-but-sad-totally-engrossing-reading-at-stop-lights-in-the-car kind of tale… A fabulous read-good for a mature tween straight on up." — Chicago Now
"Oliver's first adult novel is packed with complex, flawed characters, and she manages to turn the ghosts' observations into a story about how people are haunted by memories. It's like a Wes Anderson movie in book form, with ghosts." — io9