Ramona's World Movie Tie-in Edition (Paperback)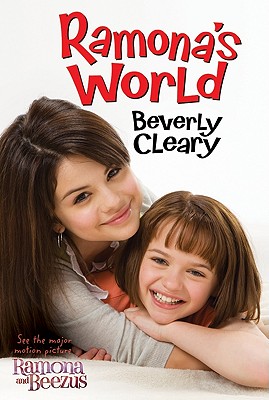 $5.99
Email or call for price/availability
Other Books in Series
This is book number 8 in the Ramona series.
Description
---
This edition of a beloved classic features cover art from the major motion picture Ramona and Beezus, starring Selena Gomez and Joey King.
Ramona Quimby can't wait to start fourth grade. With a new baby sister to brag about, new calluses to show off, and a new best friend to get to know, everything's going to be great! Or is it? When Ramona's spelling is atrocious, her teacher, Mrs. Meacham, is firm about her needing to improve. Then a scary incident at a friend's house leaves Ramona feeling at fault. Who knew growing up could be filled with such complicated situations?
Newbery Medal-winning author Beverly Cleary's final book in the Ramona series has all of the warmth, realism, and humor of its predecessors.
Supports the Common Core State Standards
About the Author
---
Beverly Cleary is one of America's most beloved authors. As a child, she struggled with reading and writing. But by third grade, after spending much time in her public library in Portland, Oregon, she found her skills had greatly improved. Before long, her school librarian was saying that she should write children's books when she grew up.
Instead she became a librarian. When a young boy asked her, "Where are the books about kids like us?" she remembered her teacher's encouragement and was inspired to write the books she'd longed to read but couldn't find when she was younger. She based her funny stories on her own neighborhood experiences and the sort of children she knew. And so, the Klickitat Street gang was born!
Mrs. Cleary's books have earned her many prestigious awards, including the American Library Association's Laura Ingalls Wilder Award, presented to her in recognition of her lasting contribution to children's literature. Dear Mr. Henshaw won the Newbery Medal, and Ramona Quimby, Age 8 and Ramona and Her Father have been named Newbery Honor Books. Her characters, including Beezus and Ramona Quimby, Henry Huggins, and Ralph, the motorcycle-riding mouse, have delighted children for generations.
Jaqueline Rogers has been a professional children's book illustrator for more than twenty years and has worked on nearly one hundred children's books.